MOCBASE
CODE: P12-RNM1540
Modelización y caracterización del sistema circulatorio de la Bahía de Algeciras para el establecimiento de directrices de actuación ante situaciones de emergencia
CHIEF RESEARCHER
Jesús García Lafuente glafuente@ctima.uma.es
FUNDER
Junta de Andalucía
DURATION
2014 - 2017
MEMBERS
---
OBJECTIVES
The objectives of the project are:
Description of the Algeciras Bay circulation based on existing observations as well as on new ones specifically designed to fill important gaps on the availbale information.
Utilisation of hincasts produced by the numerical model developed by GOFIMA within the Operational Oceanography Project SAMPA (http://sampa-apba.puertos.es/ ) in order to investigate renewal times of the surface and deep layers of of the Bay. The project also envisages the generation of different circulation scenarios aimed at the study of dispersion and diffusion of pollutants.
Development of new high spatial definition models in the Algeciras Port and surroundings nested to the former model, which will be used for investigating the dynamics and circulation inside the harbour and for assessing water quality-related parameters.
---
RESULTS
The water circulation in the Algeciras Bay is dominated by tides, the meteorologically-driven subinertial dynamics being the second one in importance. Both of them are driven by the dynamics of the Strait of Gibraltar acting on the Bay's open boundary.
Phase (degrees, left) and amplitude of M2 constituent of the tidal currents in the Bay of Algeciras along the thick red line showed in the inset.
The following numerical experiment illustrates the evolution of a fictitious spill in the surface layer (0-90m) of the Bay, which has been divided into four regions, two inner (1, 2) and two outer (3, 4), in order to demonstrate the influence of the initial location of the spill on its subsequent evolution.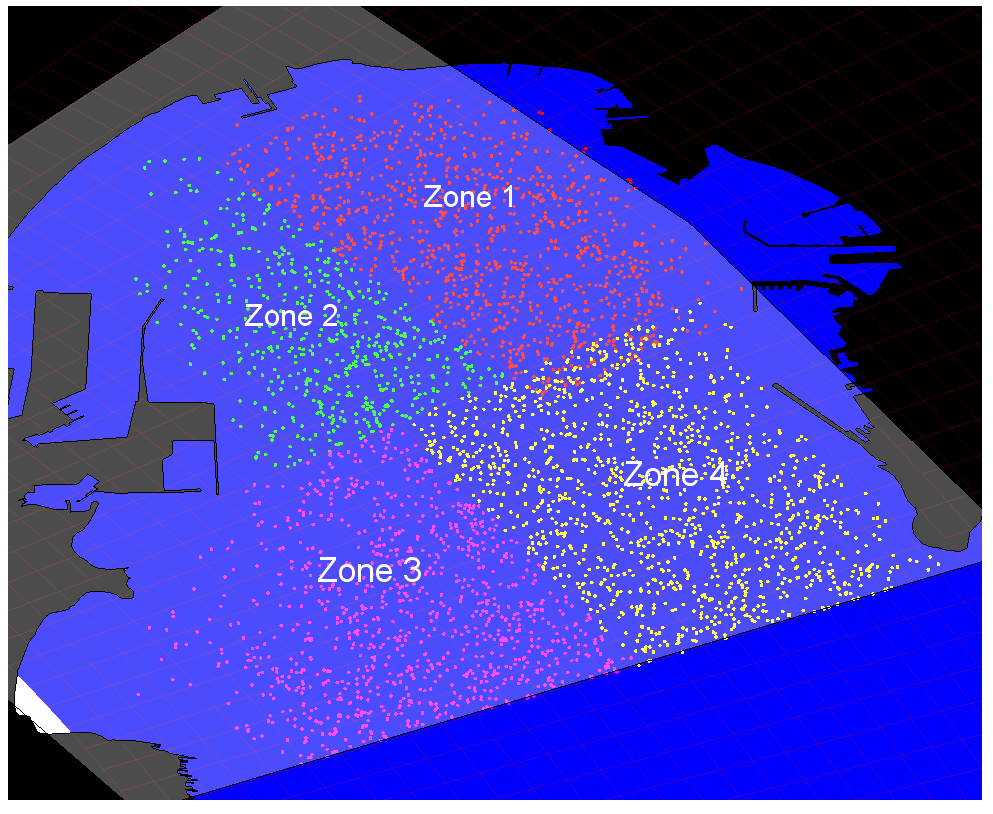 Map of the Algeciras Bay showing the four regions in which it has been divided to accomplish the experiment. Particles released in each of the different regions have been coded as follows: circle=zone 1; rectangle= zone 2; diamond=zone 3; hexagon=zone 4.
The animation shows the time evolution of the tracers released in the different zones as a function of time and depth (see the color bar at the bottom).
The upper plot displays the sea level oscillation in the Bay and the color bar indicates the instantaneous depth of the particles using redish and bluish colors for the shallower and deeper particles, respectively. Notice that the color of a given particle may change as it is vertically displaced.
---
FILES